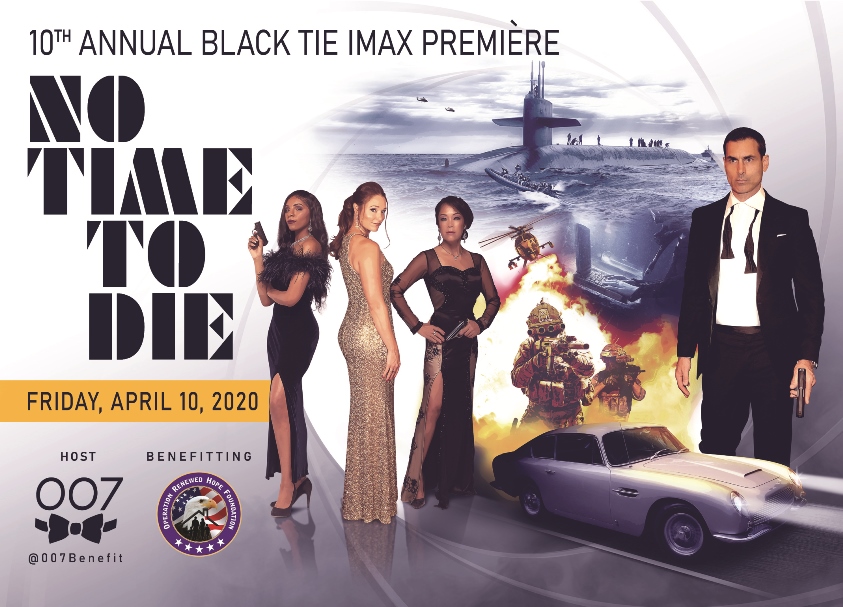 10th Anniversary 007 Black Tie MISSION:
Her Majesty's Secret Service cordially invites you to spend an extraordinary evening to celebrate the Première of "No Time to Die" in IMAX, followed by glamorous Black Tie merry-making. View exotic Supercars and smoke cigars with Agent 007. Your mission is "Dress to Impress" and enjoy socializing with VIPs, celebrities, sports champions, community leaders and nefarious International secret agents.
Net proceeds will be donated to veterans charity, Operation Renewed Hope Foundation's noble mission to eliminate veteran homelessness! Net proceeds will be donated to renovate a Home for Veterans, located in Alexandria, VA housing four Veterans in transition. Donations $5k and greater, have the option of having their organization or names listed on placard. Tickets are tax deductible per IRS rules. We thank the Community for your generosity!
Date: Friday, April 10, 2020
Time: 006 PM – Pre-Movie Socials
~7:30pm (exact time TBD) "No Time to Die"
9pm- midnite Black Tie Reception
Location: MI6 Top Secret Ball Room
Hyatt Regency Tysons Corner
7901 Tysons One Place, Tysons, VA 22102
♦ VIPS & Celebrities:
Military Generals, Sports Champions, Community Leaders, and More
♥Pre-Movie Socials:
VIP Rooftop Champagne Reception (included in VIP Tickets) OR
Secret Spy Match Up Game (separately priced Ticket)
♣ Spy Supercars Exhibit
♠ Dinner & Desserts
♥ Spirits & "Goldfinger" Martinis
♦ Auction & Raffle:
Bond Lifestyle experiences, Jet Flying,
Sports Champion Memorabilia, Fine dining, Luxury items and services
♣Entertainment:
Music * Dancing * Photography with Exotic Weapons * Cigar Sale and Smoking Lounge
♠ Dress to Impress Attire:
Black Tie * Sophisticated Gowns * Swank Cocktail Dress * Military Uniforms * Bond Beauty/ Villains * Ceremonial Kilts
Valet Parking for VIP tickets
Event video link VIEW: 10th Anniversary "No Time to Die" Black Tie Premiere
Tixs & Info: 007Benefit.org/Events
@007benefit
007 Hyatt Room Block Rate: $119+ Tax