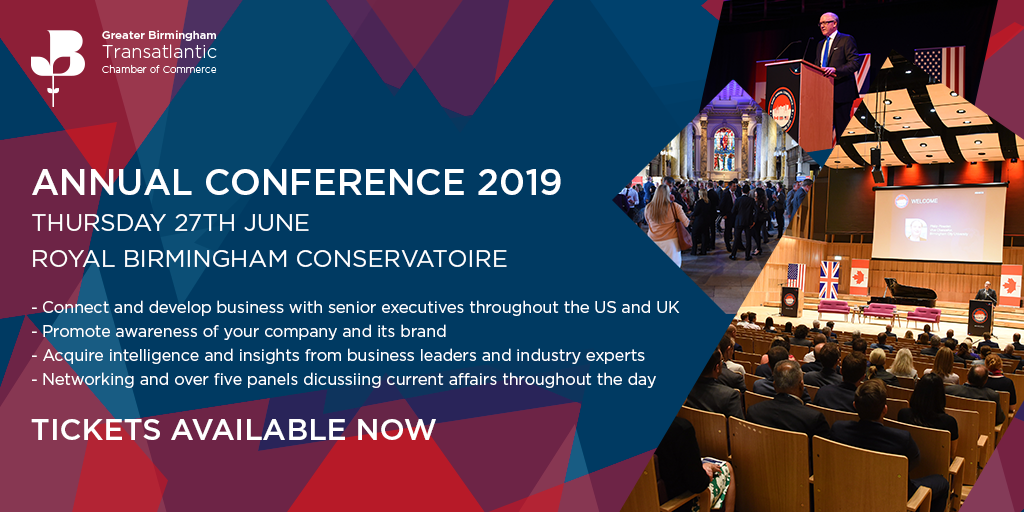 Join us in Birmingham as senior business executives, government officials and academics come together for the 2019 Transatlantic Conference of the BritishAmerican Business Network. A robust gathering of global thought leaders across North America and the United Kingdom to discover and understand new opportunities and to build demonstrably relevant relationships. Once a year the 23 British-American chapters throughout the US and UK participate in the Annual Transatlantic Business Conferences, a 2-day program of highlevel business discussions and networking with business executives actively involved in transatlantic business. This conference will welcome 300 delegates from across the Network and Directors from chapter member firms which include many of the US & UK's largest manufacturers, exporters and professional services companies.
Conference: Time: 08:00 - 17:00 (Approx)
Venue:
The Royal Birmingham Conservatoire
Jennens Road
Birmingham
B4 7XR
Conference Costs:
Members £75+VAT
Non-Members £100+VAT
Offer for new members joining Transatlantic Chamber of Commerce get one free ticket to the conference.
Dinner:
Time: 18:30 – 23:00 Date:27/06/2019
Costs: Members £50+VAT
Non-Members: £75+VAT
Tickets for the conference & dinner will be bought separately.
"The Future of Transatlantic Trade"
Agenda:
Registration & networking
Welcome speeches
Session 1: The current world we are in
Analysing the UK's current place in the world with economic and political changes
Session 2: The Economic Challenges Facing Business and Industries
An Economic update from industry leaders including trade statistics, effects of Brexit, economic impacts etc
Networking break
Session 3: Canada is open for business
Strong cultural, historical and linguistic links with the UK, similar legal and business practices and consistent economic growth make Canada a key market.
Lunch break with a speed networking session
Session 4: The UK-US Relationship
The UK & US are known for their special relationship but how are relations? This panel will also offer practical information on how to approach US expansion.
Session 5: The Annual Interview: The Future of the Transatlantic Relationship
The Annual Interview provides an opportunity to assess the strengths of the US-UK transatlantic relationship and how it will continue to thrive in the future.
Networking time
There is also a Transatlantic Dinner happening in the evening, you can book on to this event here
Connect and develop business relationships in the UK & North America

Find out about opportunities in North America for your business

Promote your business to gain clients, customers and partners

Meet new businesses from across the transatlantic Network
If you have any questions regarding this event please email This email address is being protected from spambots. You need JavaScript enabled to view it.
Are you not a member of the Transatlantic Chamber? If you're looking to do more with us we are giving a free conference ticket to all companies who sign up to membership before the conference get in touch for details!
All delegates have access to a discounted hotel rate at Conference Aston.