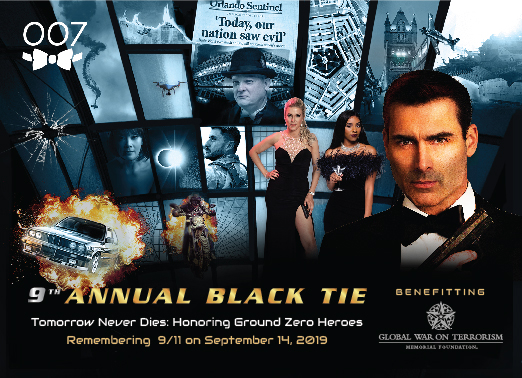 DATE: Saturday, Sept 14, 2019
TIME: 006pm-VIP Champagne Reception
007pm- midnight - Gala
PLACE: MI6 Headquarters
Marriott Fairview Park
3111 Fairview Park Drive
Falls Church, Virginia 22042
Mission: By order of her Majesty's Secret Service
BABA Member 007 Benefit LTD
cordially invites members to join
World Leaders, VIPs,
NFL Champions and International Secret Agents
in remembrance of the
18th Anniversary of 9/11
The glamorous charity Black Tie will honor veteran Ground Zero Heroes who rescued 9/11 survivors at the World Trade Center, Flight 93 Shanksville and the Pentagon. Honorees will receive MD & VA Governors' citations and VIP accolades.
Net proceeds will benefit the President George Bush's Global War on Terror Memorial Foundation and their mission build the National GWOT Memorial in Washington D.C. by 2024 to commemorate U.S. military service members who served in support of our nation's longest war. Sponsorship & Ticketss are tax-deductible per IRS guidelines.