"Meet & Greet" Breakfast with Congresswoman Mikie Sherrill
Date:
Thursday, September 19, 2019 8:30 am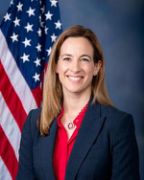 The British-American Business Association's
Defense, Aerospace, Transportation and Security (DATS) Committee
cordially invites defense-focused members to join a breakfast discussion
with the Freshman Congresswoman and HASC member, Mikie Sherrill (D-NJ)
Congresswoman Sherrill is a Naval Academy graduate and former Sea King helicopter pilot. She serves on the HASC Seapower & Projection Forces and Tactical Air & Land Forces Subcommittees. Additionally, she's a member of the Science, Space, & Technology Committee, on which she serves as Chair of the Investigations & Oversight Subcommittee and a member of the Research & Technology Subcommittee. Beyond her committee roles, she also serves as Freshman Whip for the New Democrat Coalition.
Thursday, September 19, 2019
8:30 am - Breakfast discussion
MEMBERS ONLY EVENT with a defense focus. Numbers are strictly limited so please register only one representative per company.
This event is complimentary but members must make a reservation to attend. THIS EVENT IS NOT A FUNDRAISER.