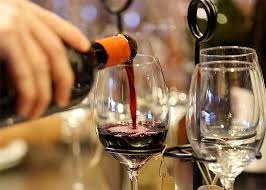 Time to wine down with a special virtual tasting event!
Join us for a special BABA wine tasting event! Learn how to taste wine and how different seasonings and food affects the taste of wine. You will also discover how to assess wine sweetness, acidity, fruitiness, and body, plus tips on food and wine pairing, to increase your enjoyment and experience of drinking the wines you like, and understanding why you like them.
BABA Board Director Chris Parker and Tracy Waldron, both from the Virginia Wine & Spirits Academy, will be our hosts for this fun, informative and interactive virtual wine tasting and provide insights into the world of wine that is at the core of their programs. Chris and Tracy look forward to talking with attendees during the event to get tasting reactions.
Date: Thursday, April 30, 2020
TIME: 5:00 pm - 6:00pm
Complimentary to Members
Non-Members: $30/each
Cancellations with refunds will be accepted until April 28th.
Web links, audio information, and instructions will be emailed to you in advance of the event.
What do you need to participate?
Internet access
2 wine glasses per person
one bottle of Syrah and
one bottle of Sauvignon Blanc
A pinch of salt, a slice of lemon, a savory item (e.g - lightly cooked mushroom; piece of salami/ham)
a sweet item (e.g, a slice of pound cake).
Recommended wines:
Lehmannthe Barossan Barossa Valley Shiraz, 2015 from Total Wine at $18.99 (or Syrah of your choice) View at Total Wine
Martin Ray Sauvignon Blanc, 2018 from Total Wine at $17.99 (or Sauvignon Blanc of your choice) View at Total Wine
If you do not have Syrah or Sauvignon Blanc at home or a Total Wine nearby, a Syrah and Sauvignon Blanc of similar styles from your local wine shop or supermarket will be fine. We recommend selecting wines in the $15-$20 price range.