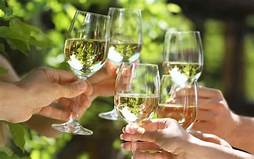 It's time to "wine down" again!
Our second virtual wine tasting event!
Join us for
"Taste your Chardonnay in a New and Different Way"
with
Chris Parker and Tracy Waldron
The Virginia Wine & Spirits Academy
DATE: Friday, May 29, 2020
TIME: 5:00 - 6:15pm
Tasting wines to purchase from wine.com:
Domaine Drouhin Vaudon Chablis 2018
Tapiz Alta Chardonnay 2016
PLEASE ORDER AS SOON AS POSSBILE. OTHERWISE CHOOSE WINES OF SIMILAR STYLE AND PRICE -
a Chablis (French) and a Chardonnay from Argentina, South Africa, or Napa Valley.
Zoom web link, audio information, and instructions will be emailed to you in advance of the event.
Do you know what happens as grapes ripen on the vine?

What happens to flavors and tannins the longer the growing season?

What about acidity, sugar and alcohol with a warmer season?

Learn how to taste and evaluate the style of the chardonnays we will be sampling and learn how climate makes a difference in structure, flavor and use of oak.