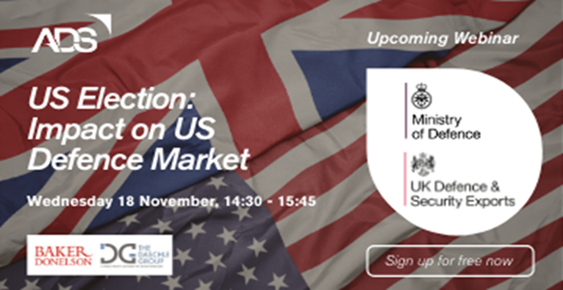 Webinar: Accessing future US defence marketplace opportunities – US Election Impact
DATE: Wednesday, November 18. 2020
TIME: 9:30am - 10:45am EST
ADS, the Ministry of Defence (MOD) Defence Trade Team in the British Embassy, Washington DC and the Department for International Trade's UK Defence & Security Exports (UKDSE) are jointly running a series of webinars on the US defence market – the largest defence market in the world - to promote greater awareness of the potential commercial opportunities for UK firms to do business in the defence, space, security and cyber security sectors.
This series of webinar events will focus on the US Air Force, US Navy/US Marine Corps, Special Operations Command (SOCOM), Counter-Terrorism, US Space Force, Cyber, US Defence Primes/Venture Capitalists and more.
This webinar series will feature presentations by officials from the US DOD, US specialists, Defence industry and UK Government to provide information and advice on doing business in the lucrative US defence, space, security and cyber security sectors market and how UK industry can exploit the opportunities.
The first two webinars in the series will focus on:
The US Election: the impact on US Defence Market – Wednesday, November 18th.
Opportunities in Special Operations Command (SOCOM) - Wednesday December 2nd.
US Election impact on US Defence Market:
This webinar will provide a unique perspective from US experts on the outcome of the US elections, its impact on the US Defence Market and resulting considerations for UK companies.
Speakers will provides an excellent presentation on the US Defence market from a UK perspective, enabling UK companies to better understand the environment when looking to do business with the US DOD. There will also be a live presentation and discussion on the outcomes (or current position) of the US elections and the likely impacts on UK companies and the US defence market. This webinar will be one of the first opportunities to understand what the next US Administration will mean for Defence. There will be opportunity for Q&A.
DRAFT AGENDA:
Welcome, Caroline Donaghy, ADSADS support in US defence market, Brinley Salzman


British Embassy support in the US defence market, Ben Grinham, British Defence Staff, British Embassy in Washington DC




UK DSE support in the US defence market, Mark Goldby, UK Defence & Security Exports




Recorded presentation (From DPRTE 2020) on the US defence market, Steve Hyjek, Senior Policy Advisor, Baker Donelson




Perspectives on the impact of the outcome of the US elections on the US defence market – Steve Hyjek, Senior Policy Advisor, Baker Donelson and Nathan Daschle, President & COO of the Daschle Group




Open forum, Q&A




Close and details of next webinar, Ben Grinham, BDSUS