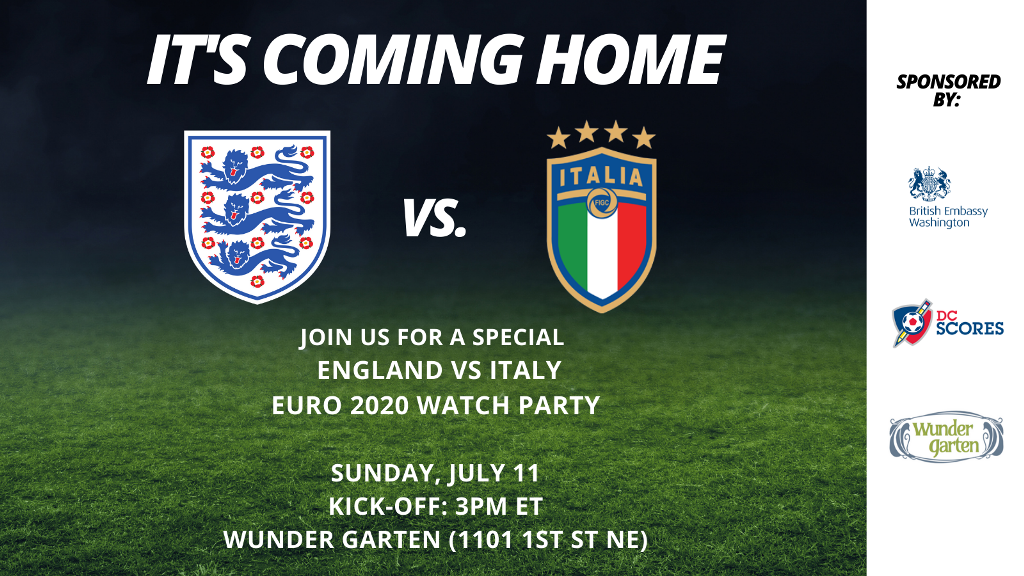 The British Embassy
invites BABA Members to a
Euro Cup watch party
The moment we've all been waiting for is here on Sunday as England takes on Italy in the Final of the European Cup Championship!
Join the British Embassy and DC SCORES and as they transform Wunder Garten into a proper British Football experience for this highly-anticipated match. Wunder Garten will have multiple TVs, food trucks and a wide selection of beers on hand, including the "Hazy-O" from Wunder Garten's official Euro Cup sponsor, Dogfish Head Brewery! The Embassy will also be providing a number of UK-themed giveaways.
$1 from each purchase of Dogfish Head's Hazy-O beer will go to support the non-profit DC SCORES and its efforts to support local education for students in the Washington, DC community through Soccer. To learn more, visit www.dcscores.org.
**Please Note**
Wunder Garten is following CDC and local DC public health guidelines to ensure the safety and comfort of all guests during the COVID-19 pandemic. Recommended food and hygiene safety precautions will be practiced, including regular cleaning of frequently touched services and hand washing facilities and hand sanitizer made available throughout the beer garden. Viewing tables are all socially-distanced to ensure a safe and enjoyable viewing experience. Guests are encouraged to check with DC guidelines when determining the need to wear a protective mask at this event.
For any questions, please contact Josh Stanton at This email address is being protected from spambots. You need JavaScript enabled to view it.